FREEPHONE 0800 032 2311 Apartment Block Specialist
Commercial Window Cleaning Specialists
Specialists in highrise window cleaning via Abseil, Cherry Picker & Wash Waterfed Pole Cleaning System.
We are experts in the field of window cleaning and concentrate our efforts into this one specialised area to offer our customers genuine, specialised and committed service.
We specialise in window cleaning via Cherry picker, Abseil and Reach & Wash waterfed pole cleaning system, which has revolutionised the cleaning industry. This system means we can clean windows up to a height of 80 feet without the use of any expensive lifting equipment or health and safety issues, passing the cost savings directly onto our customers. we also specialise in gutter clearing & pressure washed graffiti removal.
We specialise in high-access window cleaning, so where height or awkward space is an issue, we use hydraulic platforms and cherry pickers.
Professional staff will arrive onsite uniformed with ID badges with a £10 million public liability insurance behind them, for your peace of mind. We are committed to health and safety and are fully trained with City & Guilds professional qualifications, ensuring the best operating practices and procedures are in place. We are proud to be one of the first window cleaners to have been awarded with the prestigious 'Safe Contractor' accreditation award for over ten years. 
Please note, while we do clean the windows of residential blocks we do NOT clean individual flats or houses
Gutter Clearing


Reach & Wash / Water Fed Poles
Platforms / Cherry Pickers
Abseil & Rope Access
Pressure Washing & Graffiti Removal
COMMERCIAL WINDOW CLEANING COVERING LONDON AND THE SOUTH EAST
We are experts in the field of window cleaning and concentrate our efforts into this one specialised area to offer our customers genuine, specialised and committed service.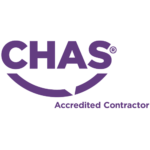 With bases in London, Brighton and Southampton, our team of professional window cleaners cover the whole of London and the South East. We offer extended coverage as far west as Bristol and as far north as Northampton, so please just ask.
FREEPHONE 0800 032 2311 Apartment Block Specialist
More feedback from our clients
Just to say thank you to the team members who came to clean the windows at my block of flats in Guildford early this morning. They were very quick and efficient. Their work was much appreciated. Please pass on my thanks.
Groves Window Cleaning have always been responsive, competitively priced and provided a high standard of window cleaning across my portfolios over several years.
Groves provide a fantastic service! Their staff are always prompt at dealing with queries and quote requests and we never receive any complaints about their workmanship – highly recommend them!
I am pleased to say that we have been using your services for many years and never been disappointed.
Groves are an excellent company. They always turn up promptly, and liaise with us in good time when we are due our next window clean. Our residents are very happy with the outstanding service provided. I would highly recommend them.
I would just like to express my gratitude for the excellent service that you provide. All your operatives are courteous and respectful. Go the extra mile to provide a responsive 1st class experience.
Groves Window Cleaning is an efficient, helpful and great company to use for window cleaning services. The company is cost effective, and well organised; reminding me when the window cleaning at my sites are due. Amazing service, and I will continue to use them across my portfolio.
Groves window Cleaning Service is 1st class taking particular care to detail in the services they provide, I would complement Groves on their professional service whilst adopting a personable approach, Groves always prepared to go above and beyond to ensure client satisfaction.
We had our gutters cleaned out last week and the job was done without any issues. Both chaps that were on site were extremely friendly and helpful.
Big thanks to Groves Window Cleaning, working as a busy managing agent with many properties myself and my clients are very satisfied with their services they are reliable and always helpful. Would highly recommend to anyone looking for window cleaning and gutter clearance services. Thank you for 10 years of cooperation!
We are very pleased with the team's performance and with the quality of the end product. The team's communication and responsiveness with us to resolve any issues has always been fantastic.